The end is here, at least for the cinematic year, which has gifted us with a premium of daring dramas, documentaries, comedies, thrillers, and action-adventures. From crowd-pleasing blockbusters to under-the-radar celebrations, eclectic imports to boundary-pushing epics (we're looking at you, The Irishman), there's been something for everyone at the theater – and, also, on the different streaming services that now strive for cinephiles' attention. The Oscar season may be just kicking into high effects, but at Esquire, we're ready to crown the year's 50 (!) standouts. This is precisely what we've done here, in the final installment of our summary of the Best Movies of 2019
The top 10 of the best movies of 2019:
The Lighthouse
Marriage Story
The Irishman
Transit
A Hidden Life
Little Women
Uncut Gems
Hagazussa
Under The Silver Lake
Climax
Let's dive in!
Climax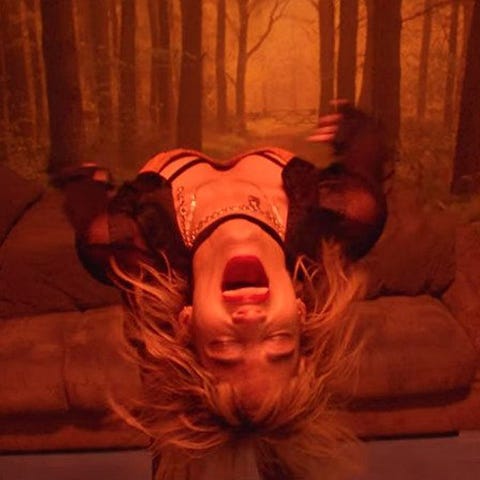 Gaspar Noé's cinema routinely tracks the line from peace to chaos, and that's once again true in Climax, the inspired-by-real-events tale of a dance party sinking into hellish madness. Beginning, portentously, with interviews seen on a television set circled by the director's favorite VHS horror films, the French auteur's latest is arguably his least intriguing to date. Regardless, it's still an escalating freak-out scored to pounding electronica and populated by a raft of potential monsters. Even during its more peaceful early-going, his characters' choreographed numbers exhibit a frightening intensity, and once these artists unconsciously drink some LSD-spiked punch, their emotional stability and interpersonal relationships spiral terrifyingly out of control. Often performed in long single takes, Noé's swirling, drifting, slithering camerawork is as dexterous as his physically lively subjects. The result is an artistic performance piece that feels like the psychosexual underworld dance divertissement that Luca Guadagnino's Suspiria wanted to be, replete with a finale that takes up residency in some hallucinatory ninth circle of Hell.
Climax is tenth in the best movies of the 2019 list!
Under the Silver Lake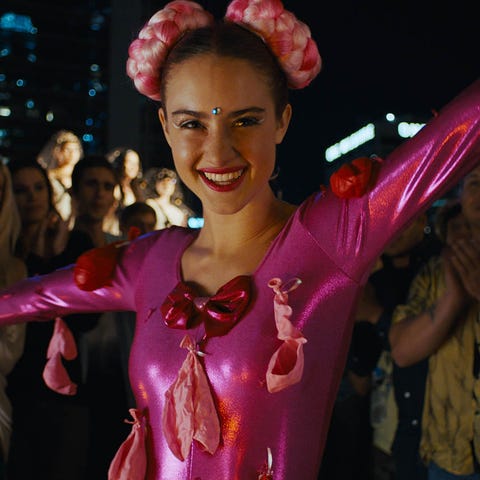 There are codes within codes within codes in Under the Silver Lake, David Robert Mitchell's deliriously shambolic neo-noir about stoner sleuth Sam (Andrew Garfield, never better) crossing a Lynch-ian L.A. landscape in search of a secret missing beauty (Riley Keough). Also directing the spirit of Robert Altman, Brian De Palma, Alfred Hitchcock and Hollywood golden-age masterpieces (set to a Henry Mancini-esque score), Sam's cine-odyssey is a quest for purpose in an overstuffed pop-culture world. Movies and legends collide, both mirthfully and sorrowful, as Sam strives to uncover the knotty conspiracy-theory connections connecting everything and everyone. From Super Mario Bros., new-age cultists, pirates, and bomb-shelter tombs, to masturbatory porn patterns, dog killers, comic books (Spider-Man, wink wink) and song lyrics scratched on pizza boxes, secret world-governing ciphers are everywhere. Mitchell reveals them through an adventure that's amusing, aesthetically handy, and laced with dark disillusionment about the puppetmaster powers-that-be and their covert maneuvers. Reconfiguring noir's fatalistic heart for our complicated modern condition, it's a portrait of the surreal new bleakness, with everything parts of a grander whole that offers no substance or solace – leaving only that endless desire for truth, and togetherness.
Under the Silver Lake is number nine on the best movies of the 2019 list.
Hagazussa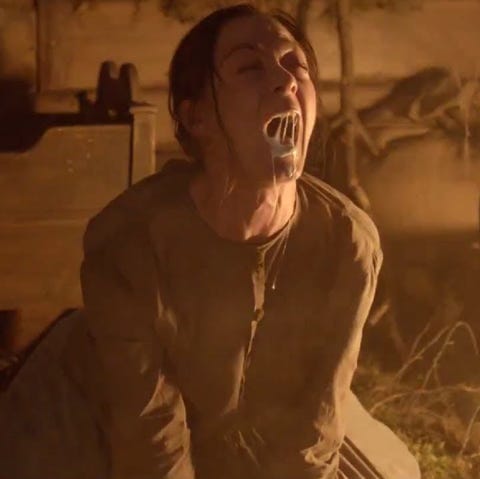 Dark, demonic power routes through Hagazussa, a legitimately evil folk tale of inheritance, corruption, and condemnation. In the Austrian Alps circa the 15th century, young Albrun (Celina Peter) leads to her mother (Claudia Martini), an assumed witch, in their remote log cabin. Years later, adult Albrun (Aleksandra Cwen) cares for her newborn daughter in that same abode, whose only visitor is Swinda (Tanja Petrovsky), a neighbor who, like the local priest, seems concerned with preserving segregated Abrun's soul. Light on dialogue but heavy on black-magic mystery, writer/director Lukas Feigelfeld's fable casts its spell via slow-burn plotting and wicked imagery, climaxing with a kaleidoscopic underwater visual orgy of blood, sources, bone, tendrils, and mutating shapes. Like the mist that embraces the mountainous region's treetops, suggestions of transitory forces are everywhere – in the sight of Albrun milking her goat, or a shrine for a skull – and they burrow under one's skin, much like the unholy whispering and crashing bass heard on a soundtrack that heralds insanity, doom, the end.
Uncut gems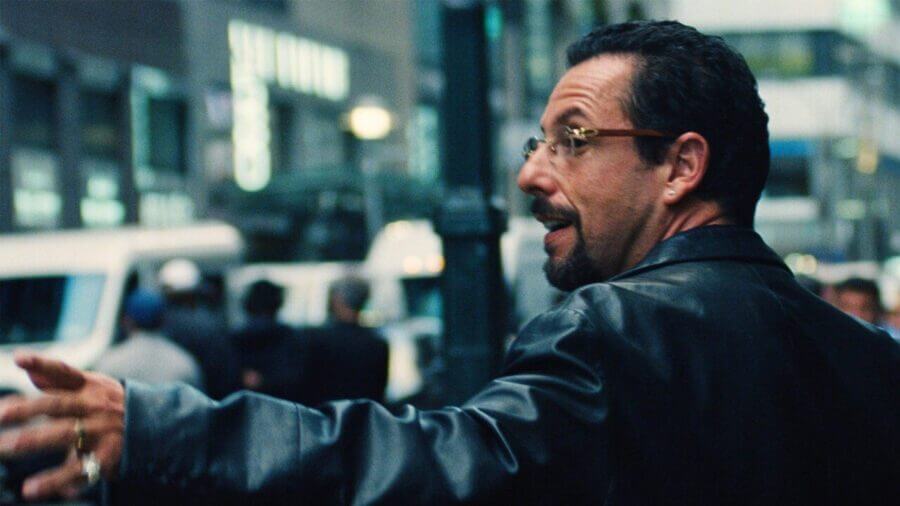 Alicia leads content strategy for LearnWorthy managing a team of content producers, strategists, and copywriters. She creatively oversees content programs, awareness campaigns, research reports, and other integrated marketing projects.